Read Time:
6
min
✓Gluten-free ✓Dairy-free ✓Nut-free NOT GRAIN FREE! (Contains rice)
This recipe is a departure from the others on my blog as it isn't grain-free or particularly low-carb, but it is at least gluten-free and dairy-free. What it does have going for it, however, is some excellent traditional (and rarely used) ingredients including kidneys and beef suet. It is also delicious.
Back Story
My Father was coming for a visit recently and when I asked him if I could make him something special that he rarely gets to eat he asked for steak and kidney pudding as he hasn't had one for 60 years! It was a challenge I couldn't resist.
Steamed puddings are an English culinary tradition that has fallen out of favour in recent decades (probably due to unfounded fears about saturated fat) but I remember them from my childhood. Though not common, they were memorable, and in a good way! They are classically made with beef suet pastry which is cooked by steaming instead of baking. And they are all the more English for that!
SUET PUDDINGS: TRADITIONAL ENGLISH FARE
This is the food that Shakespeare ate, that King Alfred of Wessex, the first king of All England, was raised upon at his mother's knee. The cakes that Alfred accidentally burned would, of a certainty, have been suet based. The heroes of the first and second world war thrived and won on fare like this. From Chaucer to Churchill, from Boudicca to Mrs Beaton, from clootie dumplings in Scotland to jam roly-poly in all the boarding schools of England: suet puddings, sweet or savoury, of one style or another, were the cause of satisfaction, confidence and courage to generations of people of the British Isles.
In the case of a steak and kidney pudding, the inside consists of chunks of braising steak, kidneys (lamb or veal) and a few vegetables (mushrooms in my recipe) in a rich, meaty gravy. When you crack it open it should look like this:
So here is my recipe for a gluten-free suet pastry steamed pud:
The filling
600g braising steak – diced
2 fresh lambs kidneys, white pelvis discarded – diced
100g button mushrooms – halved
1 onion – chopped
150ml red wine
150ml bone broth
1 tablespoon ketchup
1 dessertspoon gluten-free flour
salt and pepper and dried or fresh parsley to taste
50g beef dripping
TIP: Make the filling the day before.
Heat the beef dripping in a large heavy bottomed pan. Brown the diced beef, add the kidney, and the onion. After 10 mins, sprinkle the GF flour on and stir well in. Add the red wine (or a GF beer), and the bone broth, ketchup, herbs, seasoning etc, and let it cook slowly, no a low heat, on the hob or in the oven, for a couple of hours. Turn it all off, and leave it overnight, ready for use next day.
Suet crust pastry
280g Dove's Farm gluten-free white bread flour*
140g Adsdean shredded, frozen, suet
1 level tsp xantham gum powder
1 level tsp baking powder
¼ tsp salt
½ tsp mixed herbs
8 tablespoons chilled water
*This Dove's Farm gluten-free white bread flour was a compromise for my usual standards. I usually avoid the commercial gf flours as they contain rice flour. And although rice is considered 'gluten-free' and 'safe for coeliacs' it is still a member of Poaceae family (i.e. it is a grass seed) and several of my patients, as well as some of my own family, have reactions to rice — for one of them it brings out eczema of all things! However, on this occasion, no one at the meal was intolerant of rice, so I caved in for the sake of convenience, which was doubly irritating as I have gone to the trouble of tracking down a rice-free beef suet! NOTE TO SELF: devise a decent fully grain-free flour.
Pastry Method
TIP: Time your pastry making by the time you want to eat: Give yourself 2 to 3 hours. So, if it's for lunch at 2pm, aim to start the pastry at 11.30am.
Put 8 tablespoons of cold water in the fridge to chill.
Thoroughly grease a 1.25 litre pudding basin with butter/ghee/dripping.
Combine all the dry pastry ingredients and ensure they are evenly mixed.
Add the cold water, and mix with a blunt knife, until it all comes together as a soft, slightly sticky dough.
Cut off about 175g of the pastry dough (a bit more than a quarter) for the lid.
Roll out the larger portion into a disc, on a piece of parchment paper, sprinkled with a little of the gf flour, to about ¾ of a cm thick.
7. Line the pudding basin (pre-greased) with the pastry, gently pressing it in, pressing out the folds, ensuring there are no cracks.
8. Spoon in the cold braising steak dish, adding the gravy, and leaving about one cm space at the top. Wet the edges of the pastry, ready for the lid.
9. Roll out the smaller portion of pastry, the lid, and lift it onto the dish, pressing the edges to seal them and keep the juices inside.
10. Cut two sheets of greaseproof paper, large enough to cover the pudding with lots to spare all around. Create a crease across the centre, and cover the pudding, using an elastic band, or string, to hold it in place. Do that again, so both sheets of paper are covering the pudding. Do the same with a similar sized sheet of aluminium foil, with a folded crease in it, and cover the pud a third time, pressing it all around.
11. Place the pudding in the steamer pan, either a large pan with water in, up to halfway up the side of the pudding bowl or onto a trivet in a pressure cooker, with water beneath. Either way. Put the lid on, and bring to a simmer. If using the pan, check the water volume every 20 minutes, to make sure it is not boiling dry, and adding more boiling water from the kettle if it is getting low. Steam the pudding for two hours. If using the pressure cooker as a pan, do the same, if using pressure, it will need just one hour.
11. After the cooking time, carefully lift the pudding out and remove the foil and paper covers.
12. To help it release it can be helpful to go around the edges with a blunt knife, after which it should turn it out easily on to a warmed plate.
13. Best served immediately.
The proof of the pudding…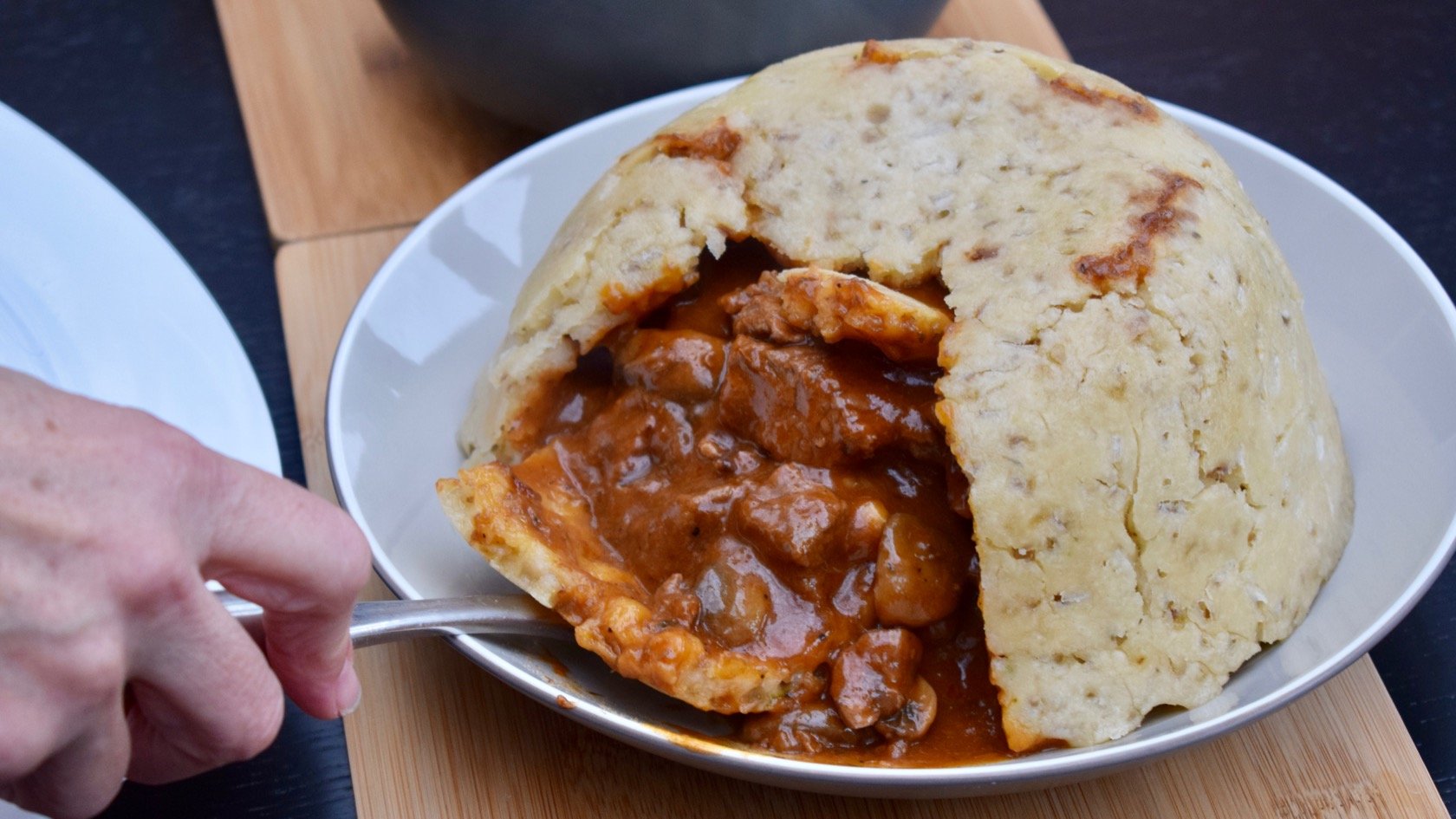 The case was firm but cut well with a knife to reveal the rich, delicious filling.
It tasted as good as it looked! There is that amazing suet flavour. Nothing else has this quality or these properties.
I think the best accompanying vegetables are mashed swede (with plenty of black pepper and butter), boiled carrots and green beans. These are very English, easy to prepare and match this classic dish extremely well indeed.
I am really impressed with this dish. It tastes so wholesome, so good, so rounded, so proper, so right, so.. ENGLISH!
And now, along comes Afifah to recreate one of the classics of culinary cleverness, but without any gluten. And it worked!