Read Time:
4
min
"Mutton is to lamb what a millionaire uncle is to his poverty-stricken nephew."

Des Essarts (1740-1793)
I cooked this delicious roast leg of mutton for my main Christmas dinner but mutton is a perfectly good traditional joint suitable for any feast-day or a top-notch Sunday Roast.
Mutton is often thought of as being a tough, second-rate meat, but nothing should be further from the truth. When cooked long and slow it is a rich, melt-in-the-mouth meat with a superb flavour. The secret is to prepare it well and give it time to slowly reveal its wonders.
Outline method for a large, 3kg joint

1. Marinade overnight
2. Place in baking dish with the marinade and dab all over with butter (or ghee)
3. Roast in a baking tray (220ºC, 425ºF) for 30 minutes
4. Remove and baste
5. Add half a bottle of red wine and cover with foil
6. Return to a very slow oven (120ºC, 250ºF) for 5 hours
7. Halfway through, remove, baste and return to oven
8. Remove and rest for 15 minutes or more
My method: all the juicy details
My leg of mutton came from Middle Farm in East Sussex. It is from a old ewe who had a long and productive life with many lambs born to her. She would have lived upon rich Sussex pastures and was an ancient South Downs breed.
The joint weighed in at 3.338 kg and cost me £36.55, which works out at £10.95 per kilo — a good price for a specialist joint that will easily serve eight at a meal, with plenty of leftovers for a second day.
All too often recipes for mutton lean on Mediterranean flavours such as rosemary and garlic which do go very well with lamb in spring time, it has to be said, but I wanted a more traditional English flavour for Christmas, so decided to rely on salt, black pepper and parsley.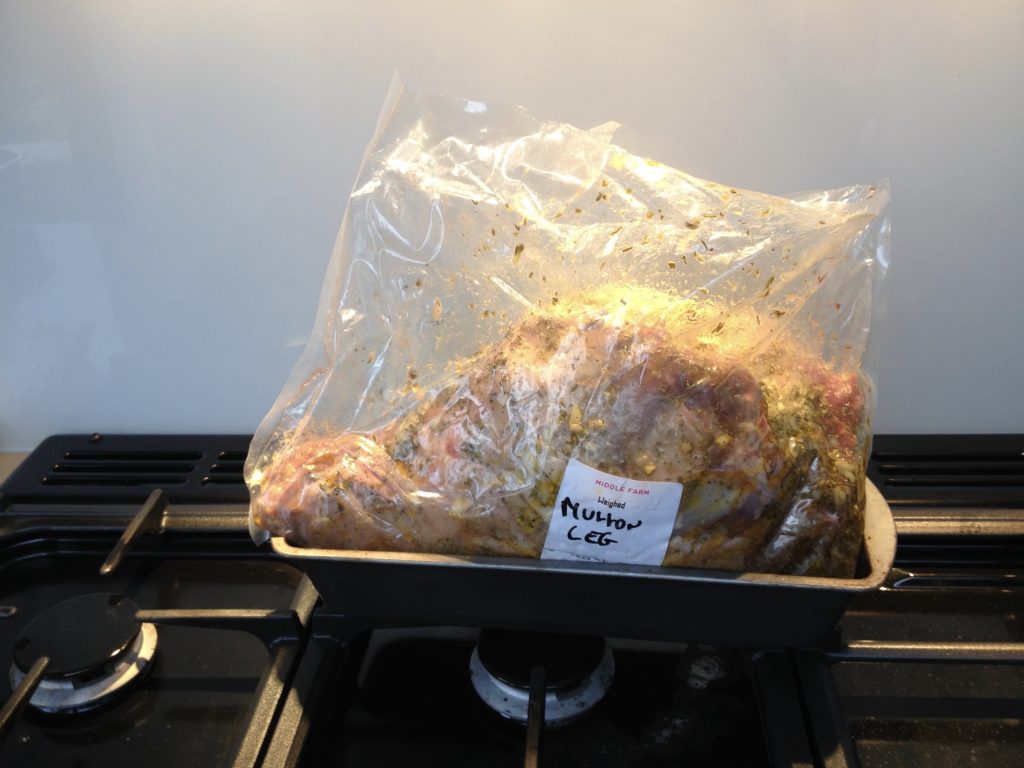 I made the marinaded by combining about a couple of tablespoons of sherry vinegar, the same of white wine vinegar and about two tbs of cold pressed rapeseed oil with plenty of salt, freshly ground black pepper, a tablespoon of dried parsley (didn't have any fresh, but fresh would have been fab too) and one finely chopped white onion in a jug.
I then placed the joint in a clean plastic bag and poured the marinade over it, then closing the top securely, shook it around to get the meat well covered. Ideally, I would have used a zip-top bag but didn't have one large enough, so I improvised, washed out the bag the joint came in and used that. I then stood the bagged joint in a tin to keep the marinade from escaping and popped it in the fridge for 24 hours.
The next day, at 8am, I took the meat out of the fridge, out of the bag and placed it in a large roasting tray. Some of the marinade came too, but most of it I reserved to become part of the gravy. I then dotted lots of ghee (see my clarified butter recipe) over the fatty side of the joint, so it was almost covered and gave it a bit more salt and pepper.
This I place in the middle of a hot oven (220ºC, 425ºF, gas mark 7) for 30 minutes to give that tasty roasted flavour to the outer parts of the meat.
Next, I took it out, basted the whole joint and poured on half a bottle of red wine, covered it in a dome of aluminium foil, ensuring that it was tightly sealed all around the tin. This had to be done with a cloth as the tin was very hot, of course. Having turned the oven down to 120ºC (250ºF, gas mark 1/2) I left it for the next five hours, removing it to baste it half way through (see photo below).
Basting the meat half way through…
When the timer went off, I removed the mutton from the oven, left it covered, whacked the oven up high and put all the roasting veg in to complete the meal. The joint was large enough to stay hot for the 45 minutes it took to complete the roast veg but a smaller joint should probably be wrapped in a towel.
And then at about 3pm… Christmas Dinner!
Starting from the foreground and working down the table: Roast leg of mutton, sprouts and chestnuts, celeriac and swede mash, pork stuffing, cauliflower cheese (sheep's cheese), pigs in blankets, roast potatoes, roast parsnips, roast carrots, roast whole baby onions (and grain-free Christmas cake in background)
The joint was easy to carve. We took quite thick slices as the mutton was so succulent thinner slices would fall apart.
Although you can see the fibres in the meat there were not tough or dry in the slightest but rather moist, luscious, melty-in-the-mouthy and extremely flavourful. The long slow roast had reduced it to a buttery softness.
Here it is served with all the trimmings, though you cannot see it all: mashed swede and celeriac, roast carrots, parsnips and potatoes, green beans and cauliflower cheese, made appropriately, with ewe's milk Wensleydale cheese, roast onions, Brussels sprouts with chestnuts, red cabbage and apple, and three different stuffings (pork and apple/chestnut/cranberry) and pigs in blankets, cranberry sauce, recurrent sauce, and a delectable gravy of meat juices and red wine. Bliss!
So if you thought that mutton had to be cooked in a more moist environment, rather than roasting, think again!