Read Time:
4
min
Here are some ideas for managing a celebration when you have guests with different dietary needs. It's a great option for any event, summer or winter, Christmas, Birthdays or the New Year bash.
I was recently faced with preparing a pre-Christmas family lunch for five people, all with different dietary needs. Of the two non-meat eaters one was vegan and the other a lacto-ovo vegetarian (with a penchant for fine cheeses). Among the three meat-eaters, two were intolerant of citrus, two reacted to cows dairy, one to rice, one to chocolate and nuts, and all three to gluten. One of the meat eaters was experimenting with eating a plant-free diet (i.e. animal products only). It's the kind of nightmare scenario that every host dreads.
One solution to complex catering is the buffet: A smorgasbord of tasty bits and pieces which allow everyone to pick and choose exactly what they want and avoid the things they can't have. With sufficient variety, no one feels left out or drawn attention to, and everyone's needs and preferences can be catered for. This is the Cheese and Wine plus; grown-up party food.
Another benefit to cold buffet food is that it needs minimal preparation. You can buy everything in advance and set it all out long before the guests arrive. That saves a lot of time and stress compared to getting it all come together with a cooked meal. It means once your guests arrive you can spend time being with them instead of dashing in and out of the kitchen.
A table covered in such a variety of tempting goodies looks fantastic and is guaranteed to draw compliments from your guests.
Another boon to this kind of meal is that you can group the foods that are suitable for each person close to where they are sitting. In the photo above, the meat-eaters were seated towards the back, close to the meat platter and fish dishes, whilst the vegetarian and vegan were placed front left and right respectively. There was then a left-right dietary split with the cow dairy products at one end and sheep and goat dairy at the other, and the plate of vegan 'cheese' is right in front of the vegan!
I made sure everything was gluten-free so there was no worry about cross-contamination. On occasions like this, the gluten-free aisle can really help out: gluten-free crackers and millet bread kept the vegetarian's happy.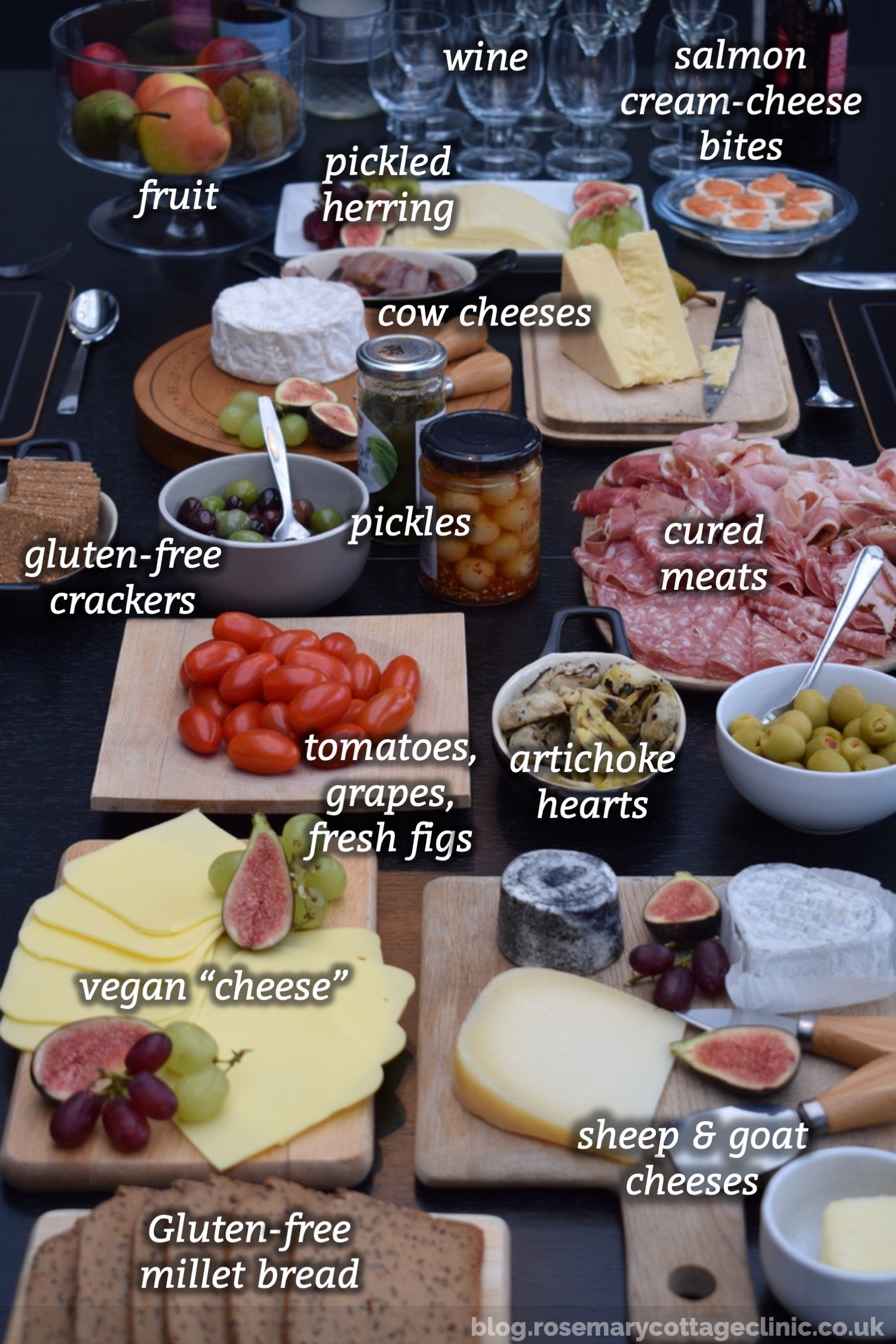 Placing foods in different bowls and platters helps keep the different dietary needs separate. The vegans don't want their foods touching the meats, and the goat and sheep cheeses need to be kept away from the cow-dairy.
An interesting mix of chopping boards, platters, bowls and glassware is also visually appealing. Grapes and figs placed on each cheese board adds a decorative touch and means everyone can reach them.
Most supermarkets now stock a large range of goat and sheep cheeses make it much easier for people who are cows' milk intolerant. Guests need to be mindful of how they use cutlery so that contamination does not occur. Providing dedicated implements for each cheese board can help.
Italian cured meats: salami, prosciutto and parma ham, are delicious served with pickles, cheese and olives. Cold sliced chicken, beef and turkey would work just as well if you want to avoid cured meats. I had to check these with great care as two of my guests are off citrus foods, and sometimes lemon or lime (or cows milk, a problem for some) is in such products, so vigilance on the part of the shopper is of great importance.
A buffet is a perfect chance to present a rich range of flavours: tangy, spicy, salty, sweet… so offer olives, pickles, figs, grapes and seafood.
To ensure everything is fully gluten-free check all the ingredients. Take care with marinades and pickles, checking that they do not contain malt vinegar as this is derived from wheat and may contain traces of gluten. Spirit or wine vinegar is safe for coeliacs or those who react to cereal grains.
Cows milk cheeses need to be kept away from the sheep and goat cheese platter to prevent cross-contamination so place the two at opposite ends of the table.
Not Shown
It may look from the photos that the vegan and vegetarian only had bread and cheese as the main focus of their meal. Actually, they also had vegan sausages and jackfruit wraps, but these were served on the plates, not on the table, hence they are not in the photo.
Now I come to think of it, I haven't mentioned the desert either. So here is the full 'Menu' for your delectation…
BUFFET MENU
Gluten-free crackers, Millet bread, Olives, Pickles, Baby plum tomatoes, Fresh figs, Grapes, Crisps, Fruit bowl
Vegan
Vegan 'Cheese'
Vegan sausages, cold*
Vegan jackfruit wrap*
Vegetarian
Same as vegan, plus
Cheddar cheese
Camembert cheese


Meat eaters
Cold meats
Herring in marinade
Salmon cheesecakes
Desert*
Fruit Salad (citrus-free) with…
Coconut cream, Goat's cream or Homemade clotted cream ice cream


*Not shown in photos

---
Helpful Tip
Keep the packaging so that any leftovers can be put away easily and so that doubtful guests can check the ingredients for themselves. Oftentimes they have trusted a host or restaurant to know the pitfalls of food intolerances, only to find that they have a reaction later, much to everyone's embarrassment and sometimes significant injury. A patient of mine recently had to be air-lifted to hospital as he had an anaphylactic reaction to his mother's shortbread, which contained spelt (a variety of wheat, so containing gluten). He nearly died. So, be patient with the paranoia of people who know that some foods cause them real trouble.
Final thoughts
This meal was a real success. Despite the very different dietary requirements of my guests everyone was catered for and thoroughly enjoyed the food. There are so many variations on the cold buffet theme and it is relatively easy to put together that I can see myself doing this more often.