Read Time:
4
min
Fish and Seafood news
In our Seafood talk (watch our videos here), I mentioned that cod stocks have rebounded thanks to earlier fishing quotas. You can read more about this in New Scientist (8th July).
Fish, especially white fish like cod, is an excellent source of iodine – an essential developing brain nutrient – which, as we detailed in our Seafood talk, is critical during pregnancy. Unfortunately, Medical Express (26th May) reports on a study that found 74% of expectant mothers in the UK are not getting enough iodine, and 56% were unable to identify any iodine rich foods. Dr Emilie Combet, who led the research at the University of Glasgow, said:
"Iodine is crucial during pregnancy and the first months of life, to ensure adequate brain development, but achieving over 200ug a day of iodine through diet requires regular consumption of iodine-rich foods such as milk and sea fish.
The Guardian (20th July), meanwhile, encourages us to try a wider range of seafoods: "Little fish and shellfish have as much potential for a delicious dish as the overfished favourites". 
Helpfully, The Telegraph (26th July) provided a few good seafood recipes too.
In line with our assertion that seafood has been an essential part of human evolution and British traditions, the Eastbourne Herald (14th July) sheds light on the early Sussex diet. Multiple skeletons were excavated from an burial site near Eastbourne used between 600 and 700 AD "nearly all of them indicating signs of a diet high in seafood, which suggests that fishing was a big part of these people's lifestyles" and that these people were "tall and well built".
Chemical Warfare on Your Plate
Linked to one of our recent post in which we explained how counter-intuitively, the toxins in fruit and veg are responsible for many of their health benefits, comes this article in the Telegraph (30th July) explaining how modern fruit and vegetables are less nutritious because those very compounds are being bred out of them. All this points to eating more wild-like foods – for example, berries are closer to their wild cousins than apples and citrus fruits are, whilst rocket, watercress and lambs-lettuce make good close-to-wild salad choices.
Anxious Mice and the Microbiome 
Following on from our murine musings last month, Medical Daily (29th July) report on a new mouse study which found that "Gut Bacteria Changes In Early Life Can Lead To Anxiety And Depression". When the gut bacteria of depressed mice (!) was transferred to healthy mice they then become depressed.
Paleo News
The Mail Online (13th July) has a nice little story about the growing popularity of bone broth. Meanwhile, the Independent On Line (29th July) says that the popularity of cauliflower rice is growing. This easy low carb substitute for rice is a favourite of Jamie Oliver who is, they report, on a Paleo diet himself. If you are looking for further grain-substitution ideas, NBC's Today (22nd July) provide "Caveman comfort food! 5 paleo recipes for popular dishes"
Sugar – the Public Health Battle Gets Going
I'm sure you won't have missed all the news about sugar, with the UK government recommending daily intake is limited to 5% of calories from 'free sugars'. BBC News (17th July) reported this as "Sugar intake 'should be halved'". The graph in their report (reproduced below), shows where the average Brit is now. For most, getting to 5% will require more than halving sugar intake.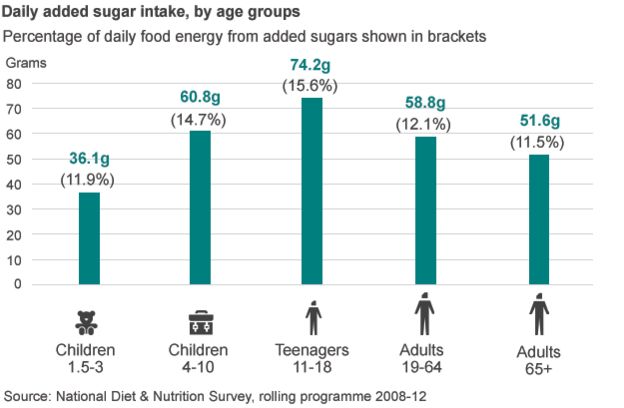 This is one of the biggest public health drives in decades and appears to be on a collision course with many modern cultural norms. As the BBC health correspondent, Adam Brimelow, rightly points out the 5% target will be "a challenge for government, industry and the public".
By way of example, The Telegraph (27th July) reports that when earlier this month industry giant Tesco announced that from September it would be removing sugary drinks aimed at children from it's shelves, a public backlash began, with complaints flooding their twitter feed.
The BBC video accompanying this report suggests that to achieve these targets people will need to prepare and cook their own food from scratch. In a world dominated by takeaways and TV dinners, this will be a major shock to Joe Public.
Although the government has ruled out taxing sugar, many leading bodies see it as a necessary step if education alone fails to change the situation. How it unfolds will be interesting. This debate is taken up in the Express (29th July) who report that a sugar tax could help the average Brit shed half a stone.
A key part of the sugar debate focuses on sugar-sweetened drinks. NHS choices (22nd July) unpacks the Daily Mirror headline "Are sugary drinks causing 8,000 cases of diabetes every year?"
On the same theme, the Mail Online (29th Jul) reproduces an info-graphic that is doing the rounds this month, that explains – somewhat inaccurately – the effects on the body of drinking a can of regular coke. Click on the image below to view a full size version. (Also, see our info-graphic of the effects of sugary drinks on children's livers)
Meanwhile on the other side of the pond, where the Union of Concerned Scientists point out that "Nearly three-quarters of packaged foods contain added sugar", Fortune (29th July) reports that the FDA is coming under fire from industry simply for simply proposing that nutrition labels include the amount of 'added sugar'! After all, ignorance is bliss, no?